Changing Room Equipment
Sanitary Clean Room Racks
Description
Fusion Tech boot racks are robust racks designed to maximize the drying and storage of work boots in your changing room.
Our boot racks can be outfitted with individual locking bars to keep boots secure during storage. They can be mounted to the floor, mounted on casters for mobility, or mounted on the wall — depending on the needs and layout of your changing room. They can also be designed to hold the number of boots desired.
Constructed of high grade stainless steel with fully seal welds, these boot racks exceed all AMI Sanitary Design Requirements for use in a food processing facility and are durable enough to withstand the most demanding environments.
All changing room solutions exceed AMI Sanitary Design Requirements for easy wash down.
Changing room solutions can come with foot pads, casters, or be wall mounted.
Changing room solutions are custom designed to meet the needs of your specific application.
| | | | |
| --- | --- | --- | --- |
| Model # | Footprint | Capacity | Mounting |
| A-07974 | 39.50″w x 62.50″l x 67.82″h | 60 Pairs | Floor |
Boot racks can be custom designed to meet the footprint, mount style, and capacity you need.
Fusion Tech Boot Racks come with a number of design and sanitation features that add value to your facility and processing operation.
Click on each number to learn more about our Boot Racks.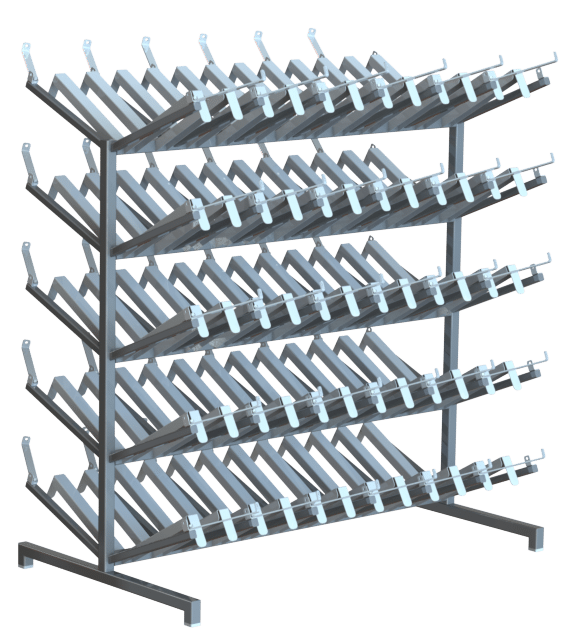 1
Locking Bars
Individual locking bars secure boots on the rack using personal or company issued padlocks.
2
Holder Bars
Boot holders are angled to optimize drying.
3
Mounting Options
Boot racks can be mounted on footpads, casters, or on the wall.