PPE Equipment Wash
Boot + Apron Wash Stations
Description
Fusion Tech boot washers are unique and robust solutions for cleaning and sanitizing employee boots when entering or leaving a sanitary-sensitive work space.
Our boot washers are designed to embed into the facility floor right outside a sanitary required work space. This allows for ease of use, mandatory use, and keeps employees from tracking bacteria and food particles to other areas of your facility. Placing the boot washers right outside the sanitary work space helps keep the rest of your facility bacteria free.
The design is simple: employees enter the boot washers as foaming solution sprays onto their boots and into the washer. The solution completely covers worker boots as they move to the opposite side of the boot washer. A central drain carries solution and bacteria away.
Constructed of high grade stainless steel with fully seal welds, these boot washers exceed all AMI Sanitary Design Requirements for use in a food processing facility and are durable enough to withstand the most demanding environments.
Our boot washers embed into the floor to provide ease of use and mandatory use.
Employees walk through a foamy soap solution for total boot coverage and cleaning.
Our boot washers are custom designed to meet the needs of your specific application.
| | | |
| --- | --- | --- |
| Model # | Style | Footprint |
| BPI4731 | Single Station | 68.75″w x 119.99″l x 10.25″h |
| BPI3399 | Double Station | 92″w x 168″l x 42″h (with handrail) |
Boot Washers can be custom designed to meet the footprint, size, and options you need.
Fusion Tech Boot Washers come with a number of design and sanitation features that add value to your facility and processing operation.
Click on each number to learn more about our Boot Washers.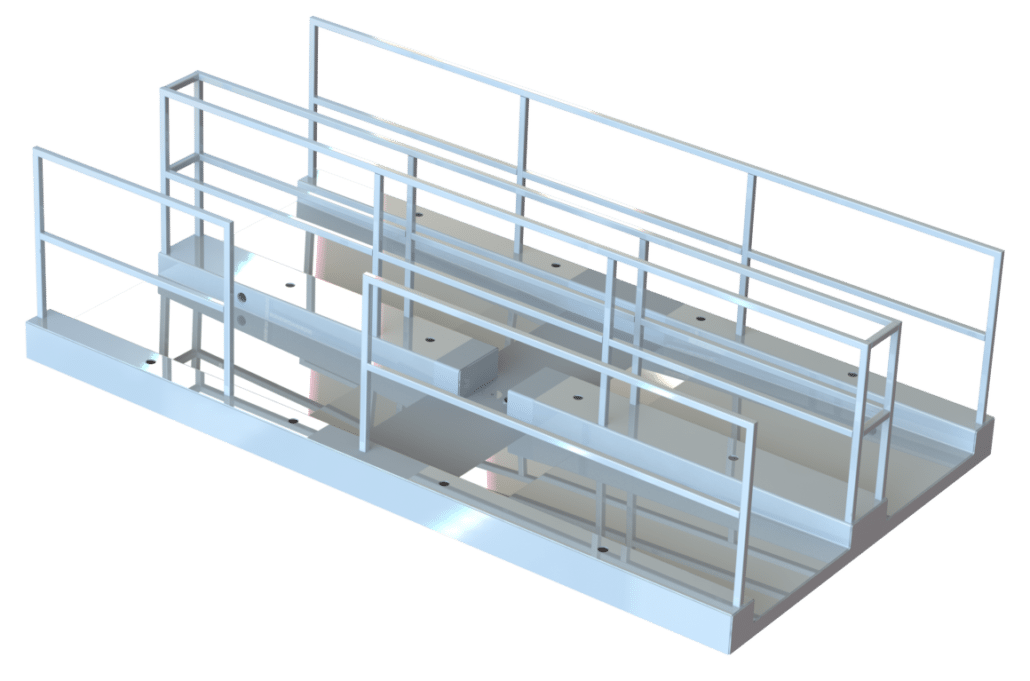 1
Foaming Soap Sprayer
Foaming soap solution sprays into boot washer to coat and clean boots.
2
Boot Washer Drain
Foaming solution and particles wash down the center drain.
3
Liquid Area
Foaming solution is at its deepest to completely cover and clean boots.
4
Boot Washer Handrails
Handrails provide safety and security for employees as they walk through foaming solution.
5
Floor Embed
Boot washers embed into facility floor for ease of use.