Fusion Tech deboning systems are custom designed to increase yield and meet your deboning needs – no matter the product. Each line includes individual operator workstations for deboning and trimming animal carcasses and every station is ergonomically designed with a worktable and bins for products and trimmings.
Our deboning systems are available with a wide array of options and sizes, including ergonomic stands to increase employee safety. They are durable enough to meet the most demanding environments and built to last.
Each deboning system is custom made to your requirements and specifications and meet all Sanitary Equipment Design principles.
Applications
Fusion Tech deboning systems are the ideal solution for:
Beef
Pork
Poultry
Veal
Exotic Meats
Product Details
Model #: A-06203
Dimensions: 48″ w  |  207″ l  |  41″ t
Intralox Series 800 belting
5.2″ pitch EZ clean sprockets
Stainless steel 1 hp motor
UHMW carryway strips and return rollers
3/4″ UHMW table tops
Hubbell disconnect box
Product Features
High Grade Stainless Steel construction
Sanitary design
Easy to clean
Modified to your specifications
Excellent abrasion, corrosion, and chemical resistance
Variations available for meat, poultry, and pork
Ergonomic stands available
All deboning systems are custom engineered and fabricated to meet your unique and exacting standards. Purchase deboning systems that fit your processing operation from Fusion Tech.
Our commitment to sanitary design and construction decreases maintenance costs and increases your bottom line.
Get more information and talk to a Fusion Tech rep about how custom designed deboning systems can increase your productivity. Simply click the button below.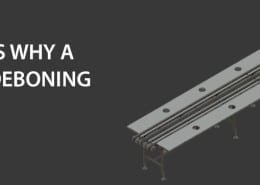 https://ftiinc.org/wp-content/uploads/2015/02/deboningsystembetter.jpg
362
1000
Fusion Tech
https://ftiinc.org/wp-content/uploads/2013/04/logo-300x137.png
Fusion Tech
2015-03-02 09:00:35
2015-02-26 10:50:08
9 Reasons a Custom Deboning System is Better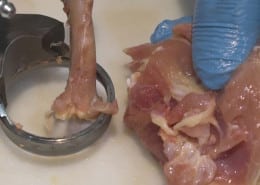 https://ftiinc.org/wp-content/uploads/2015/02/poultrydeboning.jpg
362
1000
Fusion Tech
https://ftiinc.org/wp-content/uploads/2013/04/logo-300x137.png
Fusion Tech
2015-02-25 09:00:14
2016-08-31 13:34:24
Ergonomic Risks in Poultry Deboning