Snaptivation is a revolutionary new asset management system that keeps all compliance assurance and standard operating procedure information in the cloud, and is easily accessible via PC, smart phone or tablet.
One of the keys to making this system work so smoothly is the use of stainless steel tags that are attached to the pieces of equipment you want to manage. These tags provide quick and relevant information on your equipment, and include a vital component to the Snaptivation system: the QR Code.
This code – which is laser marked into the stainless steel tab to avoid fading, scratching, or removal – is the key to accessing all the information you need on that particular piece of equipment. Your employees simply scan the QR Code with their smart phone or tablet, and instantly have access to all the asset management, compliance assurance, and standard operating procedure information they need.
Snaptivation Tags
Here are just a few sample Snaptivation tags: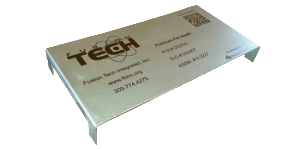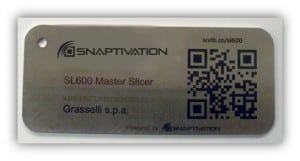 Each tag includes the QR Code, your company logo, model and serial number of that specific equipment item, and can be customized to include more information.
Designed for Food Processing Use
We thought of everything when it comes to the design of our Snaptivation tags, including:
Corrosion Resistant
Fire & Heat Resistant
Easy Cleaning
Sanitary Design
Impact Resistant
100% Recyclable
Marking the Tags
We use a laser annealing process to put your information on the tags, which means:
Material is discolored to a black color, giving excellent contrast against the steel
It does not remove material
Leaves no cuts or shallow engravings
It's permanent. Won't fade, peal, or scratch off
Learn More about Snaptivation
Snaptivation tags allow your employees to access important and relevant information at the point-of-need. Click the buttons below to learn how Snaptivation can bring your asset management into the 21st century.
https://ftiinc.org/wp-content/uploads/2014/10/snaptivation_tag.jpg
362
1000
Fusion Tech
https://ftiinc.org/wp-content/uploads/2013/04/logo-300x137.png
Fusion Tech
2014-10-08 09:00:51
2018-04-25 11:11:33
Snaptivation Tag Design